NetApp AFF All-SAN Array (ASA)

For mission-critical enterprise applications. Dedicated SAN storage (FCP, iSCSI)
Modernize your SAN today with NetApp AFF SAN systems.
Accelerate your Oracle, SAP and Microsoft enterprise applications with our industry-leading portfolio of all-flash systems.
Why NetApp SAN solutions?
Continuous availability and rock-solid performance
Industry-leading, NetApp AFF systems allow you to build a simplified and dedicated SAN that provides continuous access to mission-critical databases during both planned and unplanned events.
NetApp's storage efficiency, encryption, data protection, and ultra-fast response times means accelerating your Oracle, SAP, and Microsoft applications. Take advantage of unparalleled cloud connectivity for backup data protection, analytics, and automatic cold data storage.
Need a cherry on top? NetApp SAN deployments enable you to achieve strict performance and uptime service level objectives.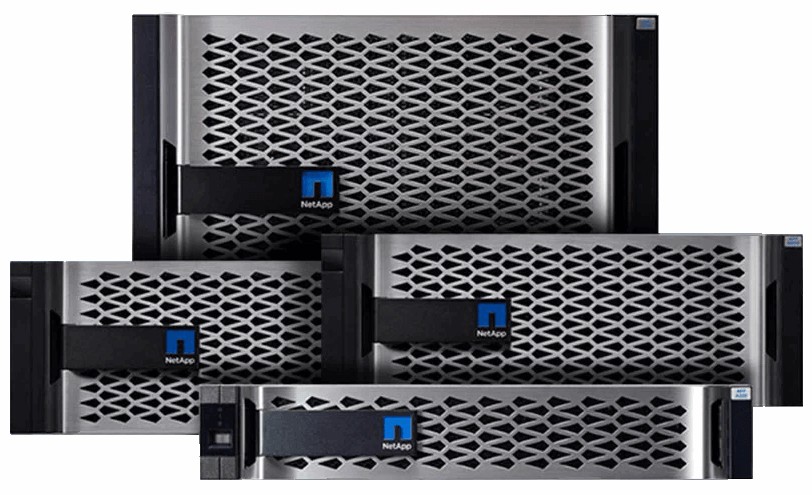 Key Benefits of Choosing the AFF All-SAN Array
Dedicated SAN storage to meet strict SLA's
Storage provisioning and data management for NetApp-qualified, customer-trusted Oracle, SAP, and Microsoft environments are fast and easy with NetApp AFF All-SAN Arrays. Set up and provision storage with quality of service objectives in less than 10 minutes. Create data protection relationships and policies with just a few clicks.
NetApp qualified and customer trusted - Oracle, SAP, SQL, and VMware environments.
Superior performance
Accelerate your Oracle, SAP, and Microsoft business applications to improve customer experience and reduce time to results. Meet the performance objectives for all your applications while encrypting, replicating and storing the data efficiently. Deliver 100 microsecond response times to your applications with NVMe over FC. And achieve up to 8.4M IOPS with AFF A800 SAN Cluster.
Continuous data availability
NetApp AFF SAN storage provides access to your critical data during both planned and unplanned events. Perform planned maintenance and upgrades with data services intact. And prevent business disruptions due to ransomware attacks, storage and fabric failures, application errors and site disasters.
Unparalleled cloud connectivity
Store your application data on-premises and in public clouds to meet the needs of your business. Put your data where it delivers the most value, and seamlessly move it as your business demands change. And automatically tier cold data to the cloud, or put copies there for data protection, analytics and other uses.
Streamlined data migration
Upgrade to NetApp AFF SAN storage and migrate your data with ease. With built-in foreign LUN import, our proven data migration process has helped customers effortlessly move hundreds of thousands of LUNs to NetApp AFF arrays.
SAN Health Check
Through this exclusive free offer, leverage our comprehensive SAN Health Check and optimize your infrastructure today. Get an end-to-end SAN assessment, including switches, storage, adapters, and protocols, so you can identify problems and proactively take action before they impact your environment. Developed by Brocade and brought to you by NetApp, the SAN Health Check takes less than one minute to install and just a few minutes to audit your environments.
NetApp AFF All SAN Array
Digital transformation requires smart, powerful and trusted storage solutions and data services. NeApp All Flash FAS (AFF) simplifies your IT operations, accelerates business and modernizes your IT infrastructure for the hybrid cloud.