Data Fabric Technology Vision

Liberate your data with the Data Fabric. Create the IT environment that's best for your business—anywhere, anytime.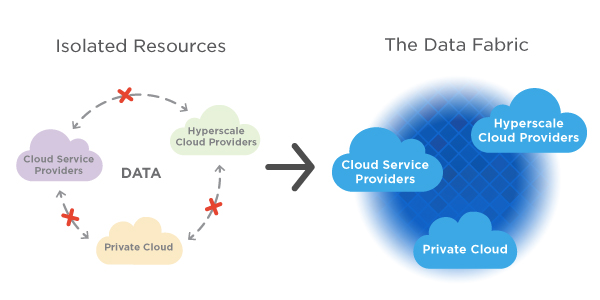 Key Point
Benefit from common data services across your choice of resources.
Leverage the value of your data no matter where it resides.
Move data from one cloud to another, with ease.
Gain the data control and choice to realize the full potential of the hybrid cloud
Business conditions change fast. Create an IT environment that lets you innovate without constraints across your choice of hybrid cloud resources.
Data Fabric optimizes today's workloads, while preparing for your hybrid cloud future.
With a common set of data services delivered through a software-defined approach, the Data Fabric provides:
Consistent data management
Efficient data transport
The visibility to leverage the right IT resources, when and where you need them
Control how you manage, secure, and move your data across the hybrid cloud. Extend the value of data across connected devices through analytics and the Internet of Things. Let NetApp help you harness the Data Fabric to:
Build a cloud-ready data center.
Leverage clustered Data ONTAP data management as you modernize your data center. Connect to the cloud on your terms.
Accelerate your enterprise application performance.
Use NetApp all-flash storage arrays to drive greater speed, responsiveness, and value from key business applications.
Protect and recover your data.
Maintain stewardship of your data across all cloud resources. Realize the economics of backup to the cloud.