NetApp FAS Storage

The #1 customer-trusted, cloud-optimized unified storage platform
NetApp FAS Storage Arrays are simple to set up and smart enough to respond quickly to changing business requirements.
Unleash the power of your data with our NetApp's all-flash products.
Why NetApp FAS Storage?
Best-in-class data management to simplify operations
Powered by NetApp ONTAP data management software, we can help you build a storage infrastructure that is simple, secure, and trusted.  NetApp FAS Storage Arrays provides customers with a balance of performance and capacity.
Optimized for easy deployment and operations, NetApp FAS systems deliver the flexibility to handle your future growth and cloud integration. With their highly available hardware and powerful software, FAS systems cost-effectively deliver the data protection, security, and scalability to safeguard your data and help your team be more efficient.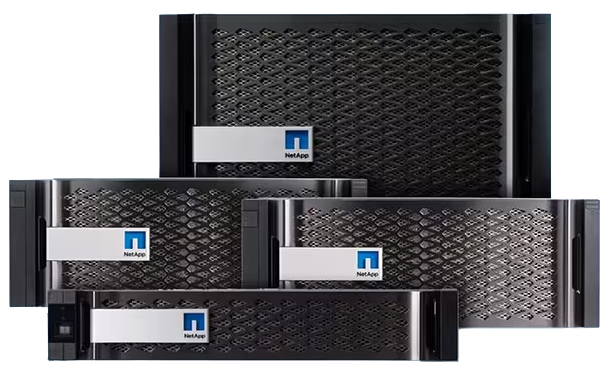 Meet the six NetApp FAS models
Unmatched business agility, superior uptime, and certification across multiple platforms—all available in every one of the six models in the NetApp FAS series. No matter how big—or small—your business, find the perfect fit for superior data storage with a FAS model.
Key Benefits of Choosing the FAS Storage
Flexibly adapt to evolving business needs
Provision storage in minutes.
Go from initial power-on to serving data in less than 10 minutes with provisioning for key business applications.
Simplify ongoing management.
Upgrade software or service storage during regular business hours with zero downtime.
Streamline operations.
Leverage one unified system for SAN and NAS with proven storage efficiency.
Secure and protect your data across your hybrid cloud
On-premise & public clouds, we have you covered  
Start small and scale nondisruptively as your data requirements grow, on premises and in the cloud.
The Best Cloud Integration
Connect effortlessly to the cloud with leading integration to Amazon AWS, Microsoft Azure, Google Cloud, and others.
Prevent problems before they affect your business
Optimize your storage environment and reduce costs with the predictive analytics and proactive care of NetApp Active IQ.
Customer proven for diverse workloads
Secure your sensitive information 
Protect your data at rest and in transit with our portfolio of security capabilities. 
Safeguard against data loss
Efficiently replicate data and accelerate recovery with application-consistent data protection.
Eliminate business disruptions
Maintain access to data at all times during service, failures, and site disasters.
Customer proven, real-world results
IDC Whitepaper validates NetApp customers achieve six-nines availability.
Primary Use Cases
From backup and recovery to content collaboration, NetApp FAS storage arrays are built to get things done.
Distributed Enterprise/Remote to Core
Consolidate SAN and NAS workloads.
High-volume unstructured data
Easily support large volume of data - media and entertainment, EDA, CAD/CAE, medical imaging.
Backup and Disaster Recovery
Efficiently use for Disaster Recovery OR as backup destination