NetApp FAS8000 Hybrid Storage Array

Scale-Out Storage for the Enterprise


FAS8020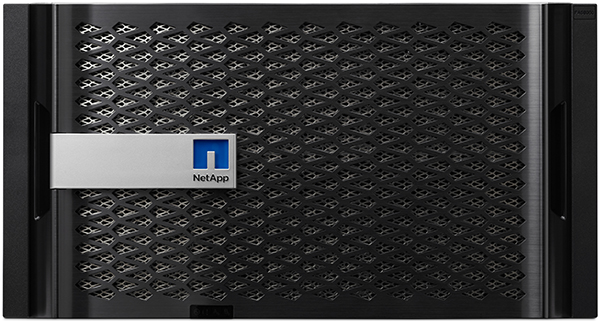 FAS8040 and FAS8060
Sorry, this product is no longer available, please contact us for a replacement.
Overview:
Best For
Backup and Recovery
Big Data
Cloud Services
Microsoft Solutions
NetApp Private Storage for Cloud
OpenStack
Oracle Solutions
SAP and SAP HANA
Virtual Desktop Infrastructure (VDI)
Virtualization
As the role of technology has expanded to cover key business operations as well as back-office functions, IT leaders have had to rethink the way they architect storage. Traditional requirements such as storage uptime, scalability, and cost efficiency are still critical, but so are factors such as flash acceleration, cloud integration, unified support for SAN and NAS, and simplified data mining for competitive advantage.
Many enterprises struggle, held back by structural limitations in legacy storage and data architectures. Traditional storage arrays might deliver on basic needs, but are divided into separate silos or are incapable of meeting advanced service requirements and leveraging the cloud.
Accelerate business operations with unified scale-out storage
The demands of a data-driven business require a new approach to storage with an integrated combination of high-performance hardware and adaptive, scalable storage software. It needs to support existing workloads as well as adapt and scale quickly to address new applications and evolving IT models.
FAS8000 hybrid storage systems are engineered specifically to address these needs. Powered by NetApp ONTAP data management software, the FAS8000 series unifies your SAN and NAS storage infrastructure. When FAS8000 are clustered with NetApp AFF all-flash arrays and integrated with the cloud, you have the control to easily move your data to where it's needed for your business and place it in the storage environment that delivers the best combination of flash performance, storage capacity, and cost efficiency. With proven agility and data management capabilities, the FAS8000 has the flexibility to keep up with changing business needs while delivering on core IT requirements.
Accelerate business operations and respond easily to changing requirements with unified, scalable hybrid storage.
Adapt faster to changing business needs and achieve core IT requirements for uptime, scalability, and cost efficiency. The powerful NetApp FAS8000 Series hybrid storage systems are built for business-critical workloads that demand high performance (up to 4M IOPS), multi-PB scale, and leading flash integration.
Respond flexibly to changing business requirements
Build a foundation for a data fabric that enables you to maintain control of your data as you grow—on premises and in the cloud. Deliver performance across a broad range of SAN and NAS workloads.
Streamline IT operations
Leverage simplified management and proven cloud-provider integration to deploy the FAS8000 in your data center or hybrid cloud. Nondisruptive operations simplify long-term scaling and improve uptime.
Deliver superior TCO
Increase utilization and improve long-term ROI by way of proven storage efficiency and price/performance. Leverage your existing investments in third-party storage arrays using NetApp FlexArray storage virtualization software to consolidate them behind the FAS8000.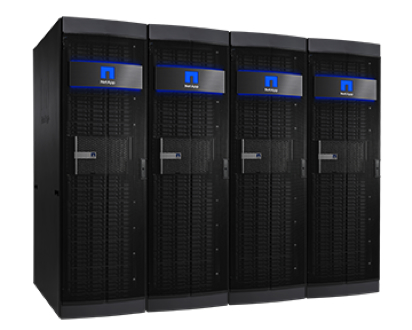 Key Benefits
Simplify Your Storage Environment
Run SAN and NAS workloads with unified scale-out storage.
Accelerate Enterprise Applications
Reduce latency and speed operations with up to 1.7PB of hybrid flash.
Maximize Uptime
Eliminate planned downtime to add, upgrade, or retire storage with no disruptions.
Consolidate Infrastructure
Scale up to 138PB, cluster with AFF all-flash systems, and integrate existing third-party storage arrays.
Optimize for the Hybrid Cloud
Easily implement a service-oriented IT architecture that spans on-premises and cloud resources.
Introducing the FAS8000 Series
For many IT organizations, adding storage capacity can be disruptive. Most storage systems have pretty narrow limits and capabilities, so you end up with multiple storage systems, silos of storage, orphaned capacity, and greater management complexity. The FAS8000 solves this problem with unified scale-out storage that lets you scale your storage environment in the way that makes the most sense for your business needs. Flexible hybrid storage options let you provide an optimal level of acceleration for each workload.
Because the FAS8000 combines innovative hardware design with the proven capabilities of clustered Data ONTAP, industry-leading management capabilities, and unmatched support for well-known hypervisors, applications, and management and orchestration tools, it delivers the benefits of scale-out without sacrificing any of the capabilities that your operation depends on.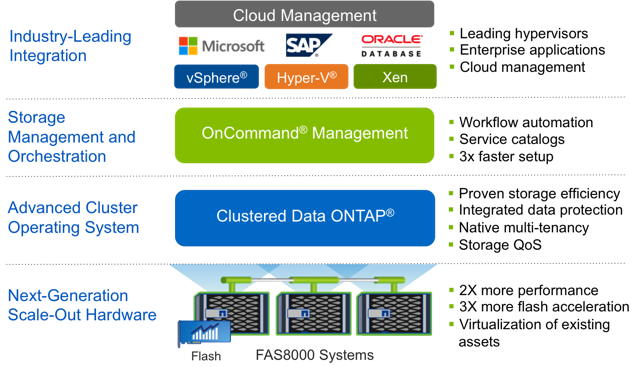 FAS8000 combines next-generation hardware with clustered Data ONTAP, OnCommand, and leading integration.
Scale Out and Scale Up
FAS is the only unified scale-out storage architecture. Like its predecessors, the FAS8000 supports both SAN and NAS protocols as needed, and the FAS8000 is the first FAS architecture designed specifically for clustered Data ONTAP. All FAS8000 models scale out to a maximum of 24 nodes.
The FAS8000 also offers significant scale-up capabilities. You can scale up FAS controllers as needed to meet your exact storage requirements by adding more capacity, by adding different types of media, or by installing Flash Cache intelligent caching or additional interface cards. You can upgrade from one model controller to another without disruption; NetApp customers have long appreciated these data-in-place "head" upgrades as a way to gain performance and capacity without disruptive data migration.
With FlexArray, a FAS8000 system can also incorporate existing EMC, HDS, and NetApp E-Series storage arrays as part of your scale-out cluster without necessitating the purchase of additional hardware.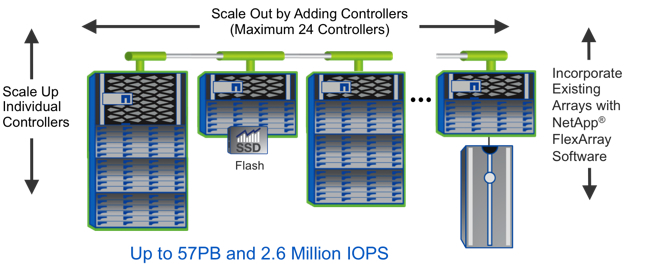 The FAS8000 is designed to scale out, scale up, and incorporate existing arrays.
Mix Generations and Eliminate Disruptive Tech Refresh
If you've got an existing FAS cluster, you can combine existing nodes with FAS8000 models. This means that you can continue to grow your cluster or make the transition to the latest controller technology, all without taking any downtime or disrupting important business operations. (When mixing nodes of different generations, cluster-node limits are dictated by the limits of the least capable node.)