NetApp ONTAP Cloud for Amazon Web Services

Extending Enterprise Storage To The Cloud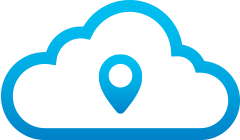 NetApp Products
NetApp Software
NetApp ONTAP Cloud Explore
#ontap-cloud-explore
Get a Quote!
NetApp ONTAP Cloud Standard
#ontap-cloud-standard
Get a Quote!
NetApp ONTAP Cloud Premium
#ontap-cloud-premium
Get a Quote!
NetApp ONTAP Cloud BYOL
#ontap-cloud-BYOL
Get a Quote!
Click here to jump to more pricing!
Overview: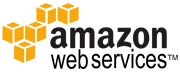 NetApp ONTAP Cloud for Amazon Web Services (formerly Cloud ONTAP) is a software-only storage service, offering superior Data Management for Business Continuity, Cloud Applications and DevOps. Our hybrid approach means that your IT, DevOps and Developer teams can now seamlessly control data across both on-premise enterprise systems and cloud environments, all from a single solution.
Key Point
Deploy highly available, enterprise-class data storage in the cloud—fast.
Manage cloud data as if it were on premises in your data center.
Minimize your cloud storage footprint with advanced data storage efficiency.
Simplify data movement to and from your premises and AWS.
Meet dynamic business objectives with hourly to annual procurement options.
Manage and maintain control of your cloud data without disruption. Pay only for what you use, when you use it.
Get the same data access and control in the cloud as in your data center. The NetApp ONTAP Cloud for Amazon Web Services (AWS)—formerly Cloud ONTAP—data storage service blends seamless control with cloud flexibility.
Built on NetApp ONTAP 9, the #1 branded storage operating system*, software-only ONTAP Cloud delivers enterprise-class data storage management in the cloud with nondisruptive, high-availability operation.
Get the right fit. Select from multiple performance and capacity options—cloud-based disaster recovery to production workloads—to meet your storage requirements.
Respond to changing demands. NetApp integrated data replication technologies enable dynamic movement of your data and applications throughout the data fabric—on premises and in the cloud.
Deploy workspaces rapidly within AWS. Clone development and test workspaces in less than two minutes with NetApp FlexClone technology—without expanding your cloud storage footprint.
The complete ONTAP Cloud data management solution includes the ONTAP Cloud storage service, OnCommand Cloud Manager software, and NetApp software support.
With ONTAP Cloud You Benefit From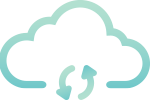 Optimized Data Backup
Cost efficient and fast backups using data ONTAP snapshot copies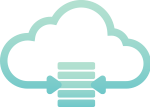 Cloud Resource Efficiency
Built in data-deduplication, data compression, thin provisioning and cloning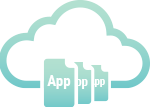 Application Consistency
Ensure consistency of Snapshot copies via our SnapManager tool suite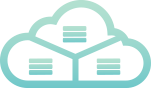 Data Security
Ensure your data is fully controlled at rest, with support for Amazon's EBS encryption
Simplify your Storage Management
ONTAP Cloud is deployed and managed from OnCommandCloud Manager.
Simple UI and drag-and-drop usability to view and manage both the ONTAP Cloud and on-premises storage from one single view
Schedule when your ONTAP Cloud instances are actively running or not
Pay only for storage you need and grow as you go
Flexible Pricing Model
ONTAP Cloud is offered in multiple purchase models on the AWS Marketplace, with both hourly and annual licensing. You can also purchase direct from NetApp with the "bring your own license" (BYOL) option. BYOL comes in both six-month and annual licenses. NetApp's enterprise class software support is included with all pricing options.
| ONTAP Cloud Explore | ONTAP Cloud Standard | ONTAP Cloud Premium | ONTAP Cloud BYOL |
| --- | --- | --- | --- |
| Suitable for smaller capacity applications (up to 2TB of underlying AWS storage) | Flexible performance and larger capacity for a wider range of applications (up to 10TB of underlying AWS storage) | Flexible performance and expanded capacity for a wider range of applications (with up to 368TB of AWS General Purpose (SSD) disks or up to 46TB of AWS Magnetic disks) | Flexible performance & expanded capacity, with a longer term subscription (includes up to 368TB of AWS General Purpose (SSD) or up to 46TB of AWS Magnetic disks) |
Enterprise Applications:
Delivering Advanced Data Management for Your Application Requirements
The NetApp ONTAP  Cloud storage data management service allows you to build an enterprise storage service on Amazon Web Services (AWS) Elastic Cloud Compute (EC2) with Elastic Block Storage (EBS) with the flexibility to pay for only what you need, when you need it. Whether you are looking to move traditional database applications or legacy NAS applications to the cloud, ONTAP Cloud provides data management that helps solve your pain points:
Grow active dataset while minimizing your overall storage resource footprint with  ONTAP storage efficiency features
Get advanced data protection with SnapMirror technology from data center to cloud and region-to-region replication
Secure your data with NetApp managed data at rest encryption where you own the keys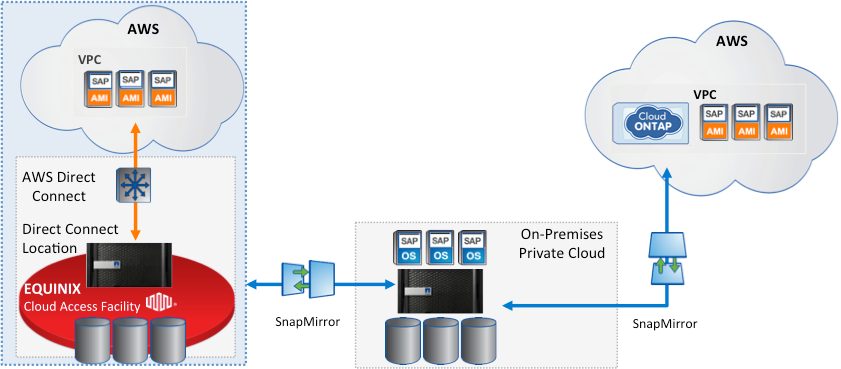 Your data management experience on  ONTAP Cloud  is simplified through NetApp OnCommand® Cloud Manager tools. Cloud Manager gives you a single interface to manage all of your ONTAP  Cloud data storage environments. Whether it is to deploy your storage environment in minutes or to monitor your resource spend, Cloud Manager provides the management to make your cloud data experience pleasant.
ONTAP Cloud , based on the NetApp  ONTAP storage operating system, allows you to grow with your application needs. As your need for application performance outpaces what cloud storage can provide, you can simply transition to NetApp Private Storage (NPS) for Cloud. With NPS, you have the ability to go from a midrange enterprise storage system to ultra–high speed All Flash FAS storage systems, all while still having the flexibility of AWS cloud compute. NPS for Cloud also opens the door to moving larger scale applications to the cloud such as analytics and scientific computing workloads that require the highest IOPS performance, capacity, and scale.
Disaster Recovery:
Ensure Business Continuity in your IT Environment whether in a Data Center or in the Cloud
The usage-based model of cloud computing is well suited for DR, and it offers a viable alternative to on-premises solutions. Moving DR operations to the cloud reduces the required data center space and storage infrastructure, resulting in cost savings and flexibility.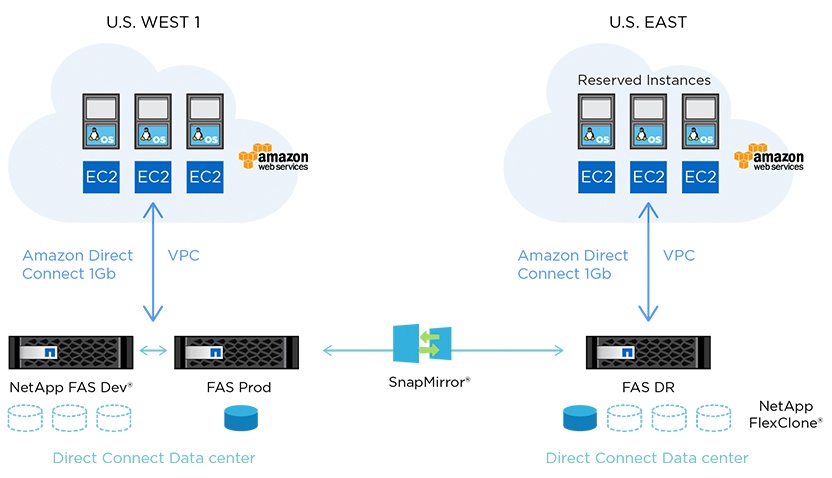 Disaster recovery on the cloud with ONTAP Cloud
With ONTAP Cloud, you can easily deploy a DR environment in the cloud and target from your on-premises NetApp Data ONTAP environments.
When building your disaster recovery site in AWS, ONTAP Cloud brings you a common data platform with that of your data center enterprise environment.
Drag & Drop
Simple click-and-drag replication of your on-premises data to Cloud ONTAP and between cloud regions
Fast Deployment
A simple deployment wizard to get new cloud DR targets up and running in minutes
Storage Control
The ability to provision, configure, and control cloud storage for additional use after it's in the cloud
Efficiency
Efficiently replicate data to and from the cloud or between regions with NetApp SnapMirror® technology
Reduced Cost
Get flexibility and cost savings by paying for your DR applications only in the event of site or system failure
Regulatory Compliance
Spin up your DR site to test and validate the site to meet regulatory requirements
Control
IT can retain in the cloud the same control and security that are required on the premises
Broad Management
A view of Cloud ONTAP resource costs that also integrates with OnCommand Insight for a complete hybrid cloud view of resources
DevOps:
Automate Your Development and Test Environment with Advanced Data Management Capabilities, Increased Performance and Elasticity.
When building out a development or test environment, flexibility of resource utilization is at the core of why the cloud has fast became the top choice.
With NetApp  ONTAP Cloud, you can take advantage of the flexibility of AWS compute and storage resources while also gaining enterprise-class features that both minimize the resources used and enhance your ability to scale.
DevOps Efficiency on the Cloud
Efficient Cloning
With FlexClone technology within ONTAP Cloud , you can create your golden image and deploy all your working environments off clones without growing the footprint of your storage. Along with the storage resource efficiency, each of these clones can be created instantaneously, allowing you to rapidly build out hundreds of environments in minutes, whereas in traditional solutions it could take weeks.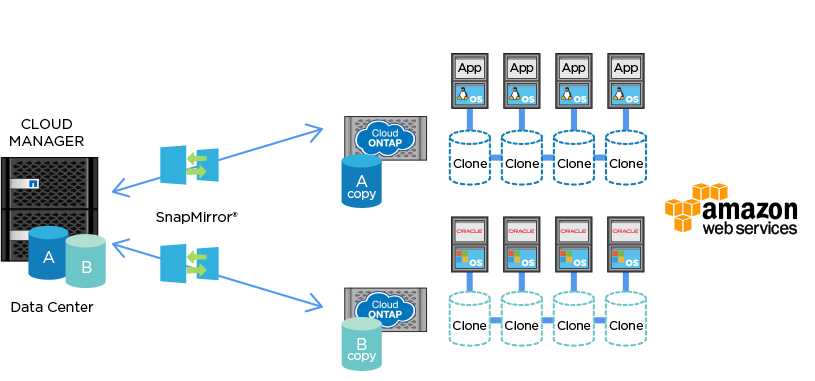 SQL Database Applications on the Cloud
Reduce the cost and complexity deploying your SQL based applications in the cloud with ONTAP Cloud for AWS.
Cost Efficiencies
Minimize your cloud storage footprint with compression, data deduplication and thin provisioning.
Performance
Not hindered by storage capacity, on premise restrictions and load management, your databases on the cloud can perform at increased speed levels.
Automation
Your database cloud configuration can be automated using Simple REST API for storage operations or a CloudFormation template.
Data Protection
Data snapshots allow simple recovery from data corruption. Moreover, data snapshots are storage efficient, fast and assure data integrity.
Data Management
Use advanced data management capabilities with enterprise-class clustered Data ONTAP features such as data deduplication, thin provisioning, FlexClone copies, SnapMirror, and SnapManager
Enterprise DR Readiness
Use SnapMirror replication from an on-premises data center or between AWS regions because storage replication does not affect database performance.
Consistency
Get application consistent data backups with SnapManager for SQL and seamless migration to and from your existing infrastructure.
QA Support
Attain a well suited database to support QA as FlexClone copies allow for storage-efficient and quick data copies, and APIs allow for streamlining testing automation.
Additional DevOps Benefits with ONTAP Cloud
Simplified Management
NetApp OnCommand Cloud Manager offers a single management interface to deploy, provision, and monitor your storage infrastructure.
Full Automation
NetApp provides a full suite of Rest APIs to deploy, configure, and manage your ONTAP Cloud environment.
Scale and Grow
Scale your environment in the cloud up to 368TB of capacity, or grow to NetApp Private Storage (NPS) for Cloud when performance and capacity needs grow.
NetApp Products
NetApp Software
NetApp ONTAP Cloud Explore
#ontap-cloud-explore
Get a Quote!
NetApp ONTAP Cloud Standard
#ontap-cloud-standard
Get a Quote!
NetApp ONTAP Cloud Premium
#ontap-cloud-premium
Get a Quote!
NetApp ONTAP Cloud BYOL
#ontap-cloud-BYOL
Get a Quote!