NetApp StorageGRID SG100

High-density and cost-efficient object storage

Click here to jump to more pricing!
Overview:
Today's unprecedented growth in unstructured data offers enterprises opportunities to uncover new customer engagements and revenue streams. To keep pace, IT must overcome the challenges of keeping up not only with the volume of data, but also with changes in how data is stored and accessed. Users need IT to support a huge number of applications, from traditional workloads to cloud-based applications, with access to data across data centers, remote offices, and the public cloud.
NetApp StorageGRID is a software-defined, object storage solution that supports industrystandard object APIs like the Amazon Simple Storage Service (S3) API. It allows you to build a single namespace across up to 16 data centers worldwide, with customizable service levels for metadata-driven object lifecycle policies. The integrated lifecycle management policies optimize where your data lives throughout its lifecycle.
StorageGRID optimizes the durability and availability of your data across multiple geographies. Whether your data is on premises or in a public cloud, it enables hybrid cloud workflows to fit your business demands with access to Amazon Simple Notification Service (SNS), Google Cloud, Microsoft Azure Blob, Amazon Glacier, Elasticsearch, and similar services.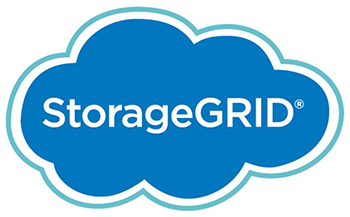 Smart: Explore the industry's leading data lifecycle management software
With the data management capabilities of the NetApp StorageGRID object-based storage solution, you can deliver high-value outcomes from your large, unstructured data while lowering your TCO.
Fast: Combine performance with cost efficiencies
It's all about the software. Unleash the full power of flash with StorageGRID object QoS, dedicated load balancer, and lifecycle management capabilities.
Future-proof: Realize cloud as a strategy, not just a location
NetApp StorageGRID will always be there for you, delivering industry-defining features and capabilities to help you manage your data with the simplicity, speed, and fluidity you build your business on.
Step right up, choose your deployment
Every deployment is unique. StorageGRID aligns with your deployment preferences, whether that is optimized hardware-based appliances, or software-based virtual machines or Docker containers that run on bare-metal servers, or a combination across virtual and physical environments.
Enable the hybrid cloud
StorageGRID offers industry-leading hybrid cloud integration with user-controlled platform services. You can keep your data in a local private cloud while taking advantage of public cloud offerings. Storage tenants can configure mirroring of selected objects at the bucket level to an S3-compatible public cloud. You can trigger hybrid cloud workflows by integrating S3 notification of events in your on-premises buckets with Amazon SNS. You can gain further value with metadata search and analytics by streaming object metadata to an external Elasticsearch service, on premises or in the public cloud.
StorageGRID lets you take advantage of industryleading Amazon S3 APIs, such as object versioning, object locking, multipart upload, S3 Select, Amazon Identity and Access Management–style access policies, cross-origin resource sharing, and object tags. With Active Directory and LDAP identity federation for Amazon S3, StorageGRID bridges the gap between enterprise IT and cloud semantics.
Cloud-to-cloud data management can also enable cost savings. StorageGRID can manage and store objects in its own globally distributed infrastructure, and in Amazon S3 or S3-compatible object stores or public clouds. Depending on your hybrid cloud strategy, you can replicate with the StorageGRID CloudMirror service to Amazon S3, Google Cloud, or an S3-compatible object store for data protection, or to leverage cloud services. And you can tier cold StorageGRID data to the cloud through Cloud Storage Pools to Amazon S3, Google Cloud, or Microsoft Azure for cost savings.
Facilitate compliance with tamper-proof data retention
StorageGRID offers many features to help you meet your regulatory obligations. It can provide immutable protection for your critical data assets. StorageGRID is built with multitenancy at its core. Every tenant is its own partition, with its own rights and permissions, while sharing the same consolidated infrastructure. Not all tenants need to be the same; they can have different performance, capacity, and security requirements.
Storage tenants can configure write once, read many (WORM) retention with S3 Object Lock to comply with regulations. You can configure StorageGRID so that compliance data is stored with duplicate copies or logical equivalents, such as erasure-coded objects. You can secure your data with software-based encryption in flight and at rest, with built-in audit trails, and with FIPS drives on some StorageGRID appliances. In addition, other features such as multifactor authentication, role-based access control, and external key management make StorageGRID a leader in security capabilities.
Proven software designed for nondisruptive operations
StorageGRID is an 11th-generation object store with 2 decades of production deployments in the most demanding industries. With the strength of the portfolio, NetApp has demonstrated more than 20 years of product hardening with more than 1 million systems shipped. With advanced features such as the NetApp Active IQ® Digital Advisor for proactive, immediate response, and with backing by NetApp's world-class support organization, StorageGRID is a solution that you can trust with your critical data assets. With StorageGRID, you can also maintain and update your infrastructure without business interruption or downtime.
Granular data protection policies
StorageGRID appliances provide layered erasure coding (EC) at the hardware and software levels. Protect against failed disk drives and rapidly rebuild lost data segments with node-level EC, and protect against site-level disasters with geo-distributed EC. For even greater protection, replicating to a cloud object store is also possible. StorageGRID can apply the data protection rules synchronously (RPO=0) or asynchronously for even better performance. StorageGRID also offers integration with enterprise backup vendors and leading data protection applications.
---