NetApp SnapManager for Microsoft SQL Server

Automate and simplify backup, recovery, and database cloning
NetApp Products
NetApp Software
NetApp SnapManager for Microsoft SQL Server
#snapmanager-sql
Get a Quote!
Key Point
Reduce storage costs using space-efficient backup capabilities.
Streamline data management and routine tasks to increase DBA productivity.
Increase backup frequency for optimal data protection and performance.
Restore a failed database of any size to full production in minutes.
Optimize SQL Server 2014 in-memory databases.
NetApp SnapManager for Microsoft SQL Server (SMSQL) reduces costs and simplifies data management by automating complex and time-consuming processes. Integrated with Microsoft technologies, SMSQL streamlines database storage management. It simplifies storage layout planning and automates backup, restore, and cloning operations for SQL Server databases.
SnapManager software reduces SQL Server data-recovery times to minutes. It simplifies data protection for SQL Server applications by providing federated database backup of multiple SQL Server instances and databases.
Clone lifecycle management creates space-efficient SQL data copies for development, testing, reporting, and disaster recovery, in seconds. SMSQL enables fast and accurate on-demand, periodic, customized staging and user-acceptance testing services.
NetApp SMSQL supports AlwaysOn Availability Groups (AGs) in SQL Server 2012, to accelerate AG setup, backup, and restore, as well as in-memory database and Buffer Pool Extension (BPE) as part of SQL Server 2014.
Key Benefits
Enhance Performance
Speed data protection to minimize downtime, maximizing revenuegenerating transactions. Optimize database performance by taking advantage of in-memory DB and BPE support in SQL Server 2014 and extensive flash technology options.
Increase Agility
Meet challenging business needs by using a single platform that offers multiprotocol data access, nondisruptive storage provisioning and operations, and quality of service (QoS) workload management. Scale seamlessly for OLTP workloads or data warehouse environments requiring petabytes of storage, across private, hybrid, or public clouds and with multiplehypervisor support.
Reduce Operational Costs
Leverage our centralized data management capabilities to simplify and optimize SQL Server data storage, according to business requirements.
Increase data availability while reducing management costs
The scope, scale, and complexity of today's data-driven world create new demands for agility in the data center. Microsoft SQL Server is a powerful and cost-effective database solution that has been deployed to meet a wide variety of enterprise needs, including typical OLTP deployments and complex data warehouse environments. Supporting enterprise-wide deployments of these complex scenarios—with the addition of unprecedented data growth and increased pressure to continue to innovate—can significantly increase the complexity of your IT environment, resulting in higher overhead and administrative costs. Widely distributed data assets often lack integration and can result in poor system availability. The key to solving these issues is to upgrade your SQL Server infrastructure to include a flexible enterprise-class storage solution that serves your data efficiently and reliably while reducing management costs.
Deploy SQL Server on NetApp storage
Integrated with Microsoft technologies, the NetApp Unified Storage Architecture delivers the performance, manageability, scalability, and data protection your organization needs to meet even the most stringent business requirements. You get more efficient, reliable data storage and cut costs at the same time. The combination of our storage solutions with your SQL Server environment can help you:
Eliminate planned and unplanned downtime for continuous business availability.
Simplify data management across on-premises and cloud deployments.
Reduce storage and data management costs.
Enable better data protection.
Accelerate the deployment, testing, and QA application lifecycle.
Maximize application performance with advanced flash technologies and SQL Server 2014 in memory storage options.
Improve business results
You can improve your bottom line and receive rapid return on your investment with NetApp storage solutions that are tailored for Microsoft SQL Server. You can save money through thin provisioning to eliminate pools of unused storage and increase storage utilization, reduce and simplify your data management, and increase DBA productivity through scripting and automation capabilities. You're able to grow as business needs dictate, without disrupting the system or your end users. With nondisruptive operations you're better able to accommodate testing and perform short-term projects. And when unforeseen events disrupt your system, you can recover rapidly. We've built our reputation on the results we've provided to thousands of companies and organizations running SQL Server.
With our agile storage infrastructure, you can easily consolidate data from multiple SQL Server systems onto a unified storage architecture supporting FC, FCoE, iSCSI SAN, and SMB 3.0 (CIFS) NAS, based upon your preferences. By eliminating data silos in this manner, you can benefit from storage efficiency features such as NetApp Snapshot and FlexClone technologies. As the need arises, you can extend your storage solution to add new functionality for disk-based backup vaulting, disaster recovery, and other capabilities. With the NetApp clustered Data ONTAP storage operating system, you can nondisruptively meet the needs of SQL Server data growth and changing SQL Server application workloads. One aspect of this is the ability to support multi-tenancy environments, where a storage cluster can be securely partitioned to isolate individual tenants— for instance, in a service provider environment—or individual applications, workgroups, business units, and so on. In addition, clustered Data ONTAP also provides storage QoS workload management that allows you to reactively or proactively control the resources that can be consumed by each SQL Server workload. The combination of multitenancy and QoS makes sure that SQL Server performance is not affected by other application workloads, resulting in improved performance consistency and increased customer satisfaction.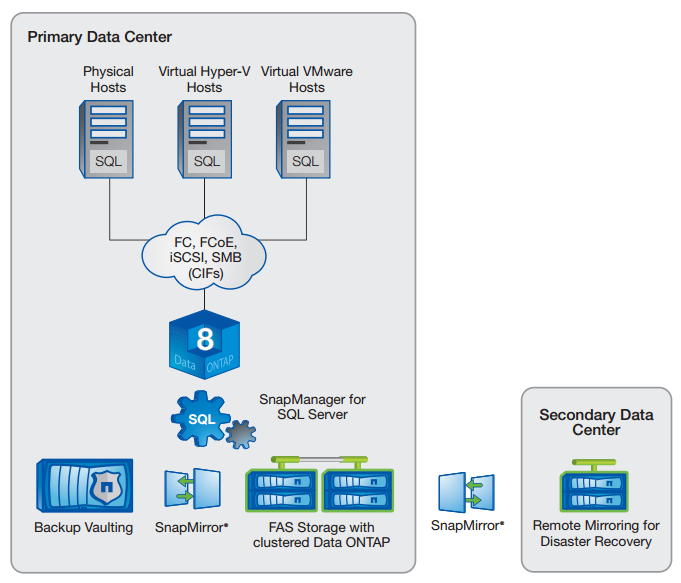 NetApp solution for Microsoft SQL Server
Partner for success
NetApp Professional Services for Microsoft Applications offer a wide range of services, including SQL Server deployment on the NetApp storage platform, disaster recovery, and high availability, as well as custom services tailored to customers' needs. To meet your interoperability and performance needs, we collaborate closely with Microsoft on key product integration efforts and product validation. In fact, NetApp was recently awarded Microsoft Partner of the Year for server solutions. NetApp Global Support and our extensive partner network can provide expert help to assist you in planning and implementing an efficient and reliable storage and data management solution for your SQL Server environment.
| Challenge | NettApp Solution |
| --- | --- |
| Reduce costs | Reduce your total cost of ownership by consolidating your SQL Server databases onto NetApp storage systems. Our support for FC, FCoE, iSCSI SAN, and SMB (CIFS) means you can leverage your existing infrastructure to cut storage outlay. Our unified architecture helps you increase storage and server utilization while simplifying data management. Particularly, NetApp's built-in support for SMB 3.0 greatly simplifies provisioning of database clones, e.g., for use in test/dev. |
| Optimize database performance | NetApp has end-to-end flash options, such as hybrid flash/HDD systems with Flash Cache and Flash Pool, and all-flash arrays such as the EF550 for low-latency, submillisecond performance requirements. Our flash-based solutions help you speed overall performance, boost responsiveness of performance-critical scenarios, reduce power costs and overprovisioning, and improve utilization of your data center space. |
| Speed backup and increase data protection | With NetApp integrated data protection solutions, you get quick, space-efficient backups and a comprehensive set of Windows PowerShell cmdlets for easy scripting of backup/restore workflows. With federated backup, you can add multiple SQL Server instances and databases to the same federated group and take a Snapshot copy to back up all databases in that group at the same time. You have the ability to restore to a marker so you can tie recovery to a business event, which is particularly useful for applications that span multiple databases across multiple SQL Server instances. You also can enable NetApp thin replication technology to protect your critical SQL Server database data, including SQL Server Availability Groups, against disasters. |
| Optimize disaster recovery and business continuity | To help you meet or exceed your stringent service-level agreements, NetApp storage solutions enable rapid recovery of SQL Server databases—in minutes. With NetApp clustered Data ONTAP software you can maintain SQL Server uptime during storage infrastructure (hardware and software) maintenance and upgrades through a highly available storage back end. Additionally, with built-in support for AlwaysOn Availability Groups (AGs) in SQL Server 2012 and 2014 combined with the latest release of SnapManager for Microsoft SQL Server, you can accelerate AG setup, rapidly back up and restore all databases in AGs, create space-efficient clones of databases in AGs using NetApp FlexClone technology, and quickly resynchronize databases within the AG using the SMSQL Reseed wizard. In addition, AGs can be mirrored to remote locations using NetApp SnapMirror technology. |
| Provide multi-tenancy and QoS | Customers can utilize functionality that Data ONTAP offers to provide data compartmentalization for all tenants, with each granted access only to its designated storage container. Rich support based on Windows PowerShell for both Data ONTAP and NetApp integrated backup empowers administrators to develop appropriate workflows that support the needs of your multi-tenant environment. In addition, clustered Data ONTAP provides storage QoS workload management using policies that specify a throughput limit, defined in terms of IOPS or MB/sec. This makes sure that SQL Server performance can be optimized consistently without being affected by other application workloads or tenants. |
| Achieve intelligent management | NetApp integrated backup helps you streamline administrative tasks such as backup, restore, cloning, and disaster recovery so that administrators can focus on more strategic tasks and business initiatives. With SnapManager federated backups you can simplify data protection of SQL Server applications where data is distributed across multiple SQL Server instances and databases. In addition, the combination of Data ONTAP and Windows PowerShell scripting enables DBAs to automate management of LUNs and volumes. |
| Improve manual, slow, and space-inefficient test and development processes | Accelerate the release and improve the quality of new applications based on SQL Server with NetApp FlexClone technology. With FlexClone, you can create space-efficient copies of SQL Server data for development, testing, reporting, and disaster recovery testing in seconds. You can also perform clone lifecycle management as well as on-demand, periodic, and customized staging and user-acceptance testing services. You can do this quickly through a policy-based clone automation framework and without causing errors to other DBAs and end users. |
| Speed deployment of business-critical applications with converged infrastructure | FlexPod validated solutions combine storage, networking, and server components into a single, flexible architecture for business workloads such as SQL Server. FlexPod solutions speed the deployment of infrastructure and business-critical applications while reducing costs, complexity, and risk. With a validated design and centralized management, you can quickly and easily deploy and host multiple instances of SQL Server, all with cooperative support from Microsoft, Cisco, and NetApp. |
| Respond quickly to data growth | With seamless scaling you can quickly and easily scale NetApp solutions to meet your changing business needs. With thin provisioning provided by NetApp FlexVol technology, you can cost-effectively expand and reallocate storage while increasing efficiency through deduplication of active data—all without interfering with your business operations. Clustered Data ONTAP allows you to nondisruptively move your data within your storage cluster to meet the needs of SQL Server data growth and increased and changing SQL Server application workloads. |
Documentation:
Download the NetApp SnapManager for Microsoft SQL Server Datasheet (.PDF)