Virtualization


NetApp and key virtualization providers create integrated solutions that simplify data center operations, improve service delivery, and enable cloud initiatives.

Server Virtualization
Virtualize your data center storage and management with a nondisruptive, scalable, and secure agile data infrastructure.
Citrix Server Virtualization
Microsoft Server Virtualization
VMware Server Virtualization
Red Hat Enterprise Virtualization
Oracle Server Virtualization

Desktop Virtualization
Optimize storage performance and cost to meet mobile computing requirements with NetApp hybrid and all-flash solutions.
Citrix Virtual Desktop
VMware Virtual Desktop
Citrix:
Key Point
Back up and recover your data in an instant.
Use 50% less storage for the XenServer virtualization platform.
Manage storage directly through the XenCenter console.
Provision storage as fast as virtual servers
Citrix Server Virtualization
Boost data center efficiency, flexibility by complementing Citrix server virtualization with NetApp storage solutions.
Server virtualization can boost your IT efficiency and turn your data center into a flexible, scalable competitive weapon.
Virtualizing your servers and desktops is only the beginning of a virtual infrastructure. NetApp® storage solutions complement the Citrix XenServer virtualization platform, enabling you to:
Save up to 50% on storage power, cooling, and space.
Reduce overall data center costs using thin provisioning and NetApp Snapshot™ copies.
Bring products, services, and projects to market faster with instant storage provisioning.
Back up often and restore your data in an instant.
Experience a smooth transition to your optimal infrastructure with NetApp's specialized virtualization services. From assessment to implementation to management, our experienced, certified professionals use proven methodologies and best practices to help you get where you want to be—with efficiency, and with no surprises.
With the NetApp 50% Virtualization Guarantee Program, use 50% less storage in your virtualized environment, guaranteed.
Key Point
Use 50% less storage by eliminating redundant desktop and user data.
Provision thousands of virtual desktops in minutes.
Adapt and grow with storage that scales to the size of your business.
Provide continuous access to data—even when you expand or upgrade.
Support all XenDesktop delivery options with the same NetApp platform.
Citrix Virtual Desktop Infrastructure
Citrix XenDesktop virtualization and NetApp storage: better for users, better for business, and better for IT.
The complex, variable workloads of desktop virtualization make it challenging to achieve the performance you need at a reasonable cost. Our solution blends Citrix and NetApp technologies—from hybrid solutions to all-flash FAS configurations—to optimize performance across all phases of the workload and for all data types.
With NetApp storage for Citrix XenDesktop virtualization, you can:
Deploy, manage, and optimize virtual desktops, applications, and user data from a central console.
Use clustered Data ONTAP nondisruptive operation to provide end users with continuous data access, even during upgrades or while adding capacity.
Reduce virtual desktop storage costs by 50%—guaranteed—with NetApp storage efficiency technologies, including deduplication, compression, and fast, space-optimized cloning.
Back up and secure end-user data in an instant.
Whether you use Citrix XenDesktop 7 or an earlier generation, NetApp offers a complete storage solution for all desktop delivery models, related data types, and Citrix-supported hypervisors.
Microsoft:
Key Point
Use 50% less storage—guaranteed*.
Migrate VMs of any size between ESX and Hyper-V in minutes.
Provision servers, storage, and VMs in minutes.
Simplify management of file services.
Automate Hyper-V backup, recovery, and DR.
Microsoft Server Virtualization
Optimize your Microsoft virtual infrastructure and improve data center efficiency using NetApp storage solutions.
Microsoft server virtualization can bring tremendous efficiencies to your IT infrastructure and turn your data center into a flexible and scalable competitive asset. With NetApp OnCommand Shift (evolved from MAT4Shift), you can slash virtualization costs by converting ESX VMs of any size to Hyper-V in minutes.
NetApp complements Hyper-V, enabling you to virtualize storage, consolidate hardware, and reduce your data center footprint. You can use 50% less storage in your virtualized environment, guaranteed*.
We offer simplified file services, effective VDI, back-up in minutes, low-overhead storage, and VM cloning to slash provisioning times and save storage. Benefit from streamlined and automated backup/recovery and Azure-orchestrated Hyper-V disaster recovery with Azure Site Recovery SAN Replication.
With clustered Data ONTAP software and Windows Server 2012 R2, NetApp supports SMB 3.0 for simple-to-manage NAS storage and ODX for ultra-fast, cross-protocol file transfers. The combination of NetApp and Microsoft software lets you achieve nondisruptive operations, proven efficiency, and seamless scalability.
VMware:
Key Point
Recover data twice as fast as with EMC or HP [1].
Achieve the same cost-effective DR for storage as with virtual servers.
Provision storage and servers together to accelerate time to deployment.
Scale your virtualized environment without traditional storage constraints.
VMware Server Virtualization
Complement VMware data center virtualization with nondisruptive, scalable, and secure NetApp storage solutions.
An efficient data center based on VMware virtualization can boost IT efficiency, optimize your IT investments, and provide a competitive advantage. NetApp data storage solutions complement VMware benefits, including VMware's vSphere cloud computing foundation.
NetApp lets you turn your virtualized data center into a pool of server, network, and storage resources. Manage, monitor, and provision storage in your vSphere environments through the vCenter Server console using NetApp plug-ins.
NetApp data storage for vSphere environments delivers:
Instantaneous backup and recovery
Automation of labor-intensive data management tasks
The ability to provision storage as fast as VMs
Data deduplication across primary, backup, DR, and archival storage
Use NetApp clustered Data ONTAP 9.0 to achieve one unified storage architecture and continuous business operations.
For a smooth transition to your optimal infrastructure, choose NetApp's specialized virtualization services. From assessment to implementation to management, our experienced, certified professionals use proven methodologies and best practices to help achieve your virtualization goals.
Key Point
Storage cost as low as $35 per desktop.
Flash performance and enterprise-class capabilities at scale
Single platform for desktop, user data, backup, and DR
Extensive integration with VMware for simplified management
Ease of desktop deployment with FlexPod
VMware Virtual Desktop
Reduce costs and improve user access to VMware Horizon environments by using NetApp flash-optimized storage solutions.
Provide mobile users with fast, consistent, and secure anytime access to their desktop applications and data, across a variety of devices. NetApp hybrid or all-flash solutions for VMware Horizon accelerate application performance, enhance the virtual desktop infrastructure (VDI) end-user experience, and deliver low cost per desktop.
NetApp storage solutions for VMware Horizon integrate into your existing environment without trade-offs in cost, performance, or enterprise-class capabilities.
NetApp All-Flash FAS storage (PDF) addresses high-IOPS/low-latency workload requirements so you can meet stringent service-level agreements (SLAs). The All-Flash FAS configurations provide the high performance of solid-state disks (SSDs) without adding risk to your desktop virtualization deployments.
Using NetApp, you can:
Choose the flash solution that best matches your performance and cost goals.
Provide mobile users with faster-than-PC performance, no downtime, and secure multi-tenancy.
Reduce your storage footprint and simplify management.
Speed deployments and eliminate risk through validated reference architectures.
Red Hat Enterprise Virtualization:
Red Hat Enterprise Virtualization 3 is a complete virtualization management solution for server and desktop virtualization and is the first enterprise-ready, fully open source virtualization platform. Red Hat Enterprise Virtualization represents a true strategic virtualization alternative to organizations looking for better total cost of ownership (TCO), faster return on investment (ROI), accelerated break-even, and freedom from vendor lock-in.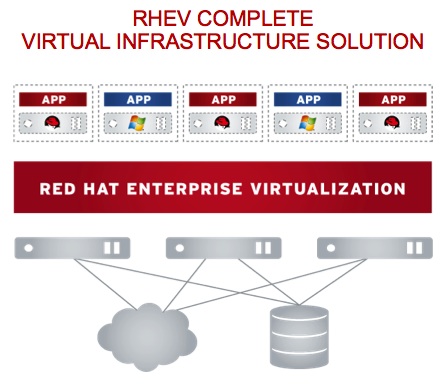 Red Hat Enterprise Virtualization offers enterprises the ideal platform on which to base large scale virtualization initiatives and internal/private cloud deployments. The powerful Kernel-based Virtual Machine (KVM) hypervisor has achieved record-setting virtualization benchmark results as well as unmatched consolidation ratios. This enterprise management system enables customers to centrally and effectively manage their entire virtual environment–virtual data centers, clusters, hosts, guest virtual servers, networking, and storage. It comes fully featured with high availability, live migration, policy-based workload balancing, image management, snapshots, and thin provisioning. With guest operating system support for Red Hat Enterprise Linux guests (32 bit and 64 bit) and for Microsoft Windows Guests (32 bit and 64 bit) complete with paravirtualized network and block drivers, Red Hat Enterprise Virtualization has been engineered to support your entire IT infrastructure.
Product/Solution Features
High performance and scalability
Unmatched enterprise security
Unparalelled ecosystem for virtualized hardware and software
Business Benefits
Lower TCO and faster ROI than an equivalent proprietary solution
No hardware or software venfor lock–in with a fully open source solution
Great performance for Microsoft Windows and Linux guests
Oracle Virtualization:
Oracle VM and NetApp storage solutions provide joint customers a powerful formula to maximize the benefits of efficiency, utilization, and agility in their virtualization environments. As a leader in storage virtualization, the inherent features and capabilities of NetApp Data ONTAP are a perfect match for Oracle customers looking to streamline and simplify data protection, backup, and management of their storage infrastructure.
Only Oracle offers the industry's most comprehensive desktop-to-data center virtualization solutions portfolio that can virtualize and manage your full hardware and software stack, from applications to disk. Oracle VM is server virtualization software that fully supports both Oracle and non-Oracle applications, and delivers more efficient performance. Backed by Oracle's world-class support organization, customers now have a single point of enterprise-class support for their entire virtualization environments, including Oracle Database, Fusion Middleware, Applications, and Oracle Linux, which are all tested and certified with Oracle VM.